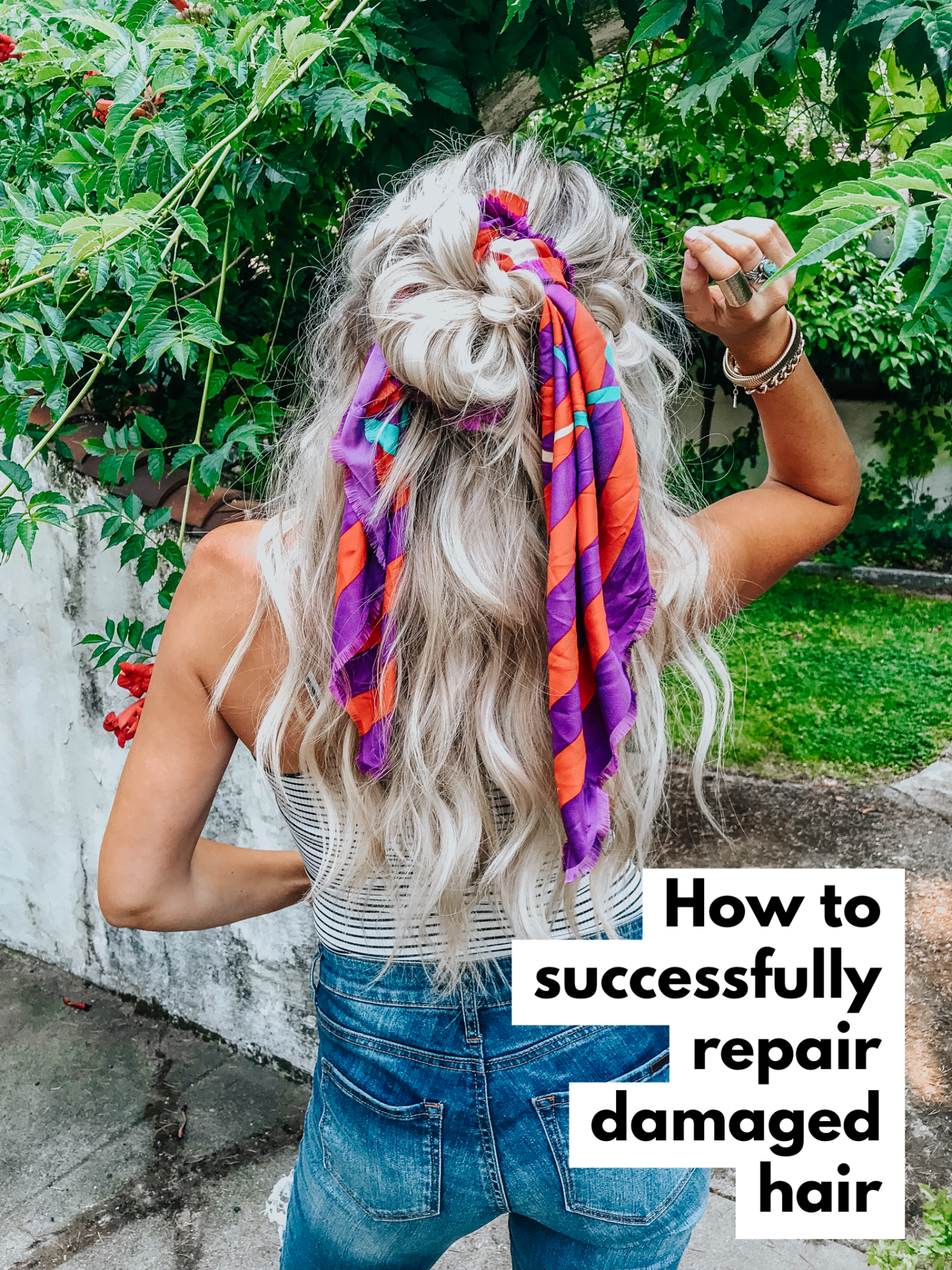 I've shared a few hair posts on my blog (Here & here), however I wanted to write one that was very specific as to how I've successfully treated my damaged hair and brought it back to life – literally. It hasn't been a fast process, in fact it's taken a little over a year to get to where I am now, but I can honestly say the products I'll be sharing below have drastically improved my hairs condition to the point that I can say I have healthy (while being blonde for that matter!) hair today.
Let's rewind. As a blonde, it is very hard and honestly a job to maintain healthy hair. The color/highlight/bleach/toner/products/heat/etc. you name it… we use a lot on our hair and it can be very damaging if not taken care of properly. I haven't always had healthy hair. It's had it's ups and downs, but nothing quite compared to the condition it was in a little over a year ago. I went to a hairstylist (she will go unnamed) who literally fried off my hair. I came home and had a whole new layer right above my jaw bone and split ends for days! Ugh – it was not fun. Mainly because I knew I had quite the challenge ahead to get my hair back to a healthier place. So point A is make sure you go to someone who knows what they are doing! Trust me, it's worth the extra $50!
I've tried a lot of products over the past year to help restore my hair. There has been a lot of trial and error. Some of them have worked tremendously, and others not so much. Below are the steps I would recommend for restoring your hair back to life…
Trim your split ends/hair. I know it's the last thing you want to hear, because really we are trying to grow our hair out here, but you have to get rid of the dead parts. Even if it's just the smallest amount, it's needed. That hair won't come back to life anyway.
This is my #1 recommended product for anyone- whether you have healthy hair, damaged hair, blonde hair, brown hair, split ends, no split ends… use hair oil!!! This stuff is like food for your hair. It needs the nutrients and oils to help maintain healthy hair. This product made the biggest difference in my opinion! I use this brand, however I know there are a lot of good hair oils out there. All I can say is that this one worked wonders for me! (I do swear by everything this brand makes, it's just a little pricier. But the quality is top notch!) Application wise, I use it after I've blow dried and styled my hair as a finishing serum. I would also recommend applying it to your ends every three days or so (if you go longer in between washes) to keep your hair hydrated/nourished. If you have thicker hair, you can get away with using more, but a little bit goes a long way as it can make you hair look too greasy if you go overboard. I have also heard unbelievable things about these power drops. I'm going to order it!
Make sure you are using a heat protectant. This could also be put in the for anyone and everyone category, however, this is vital for damaged hair to ensure things don't get worse. I use this heat protectant (again, there are a lot of good ones out there) and put it in all throughout my hair right before I blow dry. Tip: Make sure you are doing it before you blow dry (not before straitening/curling ironing) because the heat from blow drying your hair can also cause damage.
Shampoo/Conditioner – Make sure you are using a good shampoo/conditioner. Some people skip this step and I think that's a big no no. Every hair product you use works together to help build your hair back up to a healthy place. I use this shampoo/conditioner or this one by Navy Hair Care (use the code ELLA for 30% off) – I honestly love both and think you can't go wrong either way! Both are also extension safe.
Use this deep conditioner and leave it on your hair for an hour (or even overnight with your hair wrapped up in a towel) – it works so well and helps to soften and condition to prevent future breakage/damage. I'd say use it at least once every two weeks if your hair is in bad shape.
A few more products I use that help condition and keep it healthy are this spray leave-in conditioner (looooove this product). This one is another great miracle worker leave-in conditioner. I've used it for years! I also use this product to help give shine and a finished look/touch. Again, you can use the code ELLA for a discount.
Refrain from using as much heat as possible. I hated hearing that and honestly I couldn't stick to it. I still blow dried and straitened/curled my hair because I just can't pull off the natural look (my hair is like half straight, half wavy, half curly… it can't make up it's mind), but I have made sure to use tools that are less damaging – a ceramic barrel, tourmaline technology, multiple heat settings etc.. Chrome or metal curling irons are going to be the least expensive, however the most damaging. It's important to invest into the tools you are using as your hair will either love you or hate you depending on what you decide to use on it.
I'm linking everything I use for my hair below… again, I've tested a lot of products and this is what has worked best for me over the past year.



XOXO