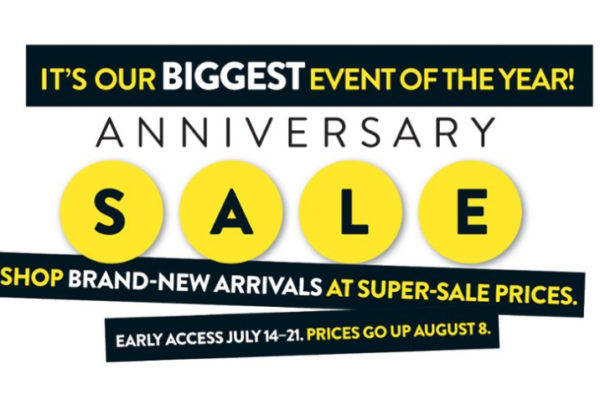 It's here!!!!!!!! I'm so excited to share my favorite picks from the Nordstrom Anniversary Sale with you guys! I'll be sharing a few different posts over the next couple of weeks highlighting my favorites within each department including different price points. Remember, this sale is for everyone in your family: Men, Women, Kids, and Home.
Also! This Trend page has some awesome finds and includes most of the items I'm sharing with you today plus many more. Nordstrom has identified what's "trending" I guess you could say, and categorized them all for you in one spot.
As a reminder, today start's early-access (or the pre-sale) which means you must be a Nordstrom card holder (Debit or Credit card). You may shop the sale immediately after being approved- so head over here to sign up for either one! I have the debit card which is a win for me because there's no getting into trouble- the funds come directly out of my checking account. If you are not a cardholder, you may take a sneak peek at the sale (which could be fun but also very tempting 🙂 ) BUT this way you'll be able to eyeball and make note of your favorites for when the sale opens up to the public (July 22). The popular items do sell out quickly, so if you're on the fence about signing up- I'd say go for it to ensure you're able to snatch up your picks!
Okay- enough blabbering… let's start shopping 🙂
Can't ever go wrong with Free People!
This one is kind of fun!
Think I might be picking this one up- it comes in black & nude!
Let's talk jeans. An item every single one of us buys yearly and wears constantly. I've put out a good amount of money for that perfect pair. Here are a few of my favorites…
It's not very often you see Topshop jeans on sale- so these are a great find! Cropped jeans are also very on point right now in the fashion world, so these are a great pick for the price! I personally believe every wardrobe needs a good pair of black distressed jeans and these are my favorite because of the legging fit! I've also heard so many good things about this brand and might have to buy these!
This green leather coat belongs in my closet!
These types of jackets are totally coming back in!
Love me a great fitting/versatile blazer! Comes in black & white
I can almost guarantee that these WILL sell out! One of the most popular boots year after year!
Fringe is always a favorite!
These are perfect for you if you live in the snow! Or if you're like me and visit the snow twice a year but love a fashionable boot 🙂
I use this for my eyebrows so I highly recommend this kit on sale!
THIS BAG!!!!!! Not sure I can live without it- just can't decide on what color!