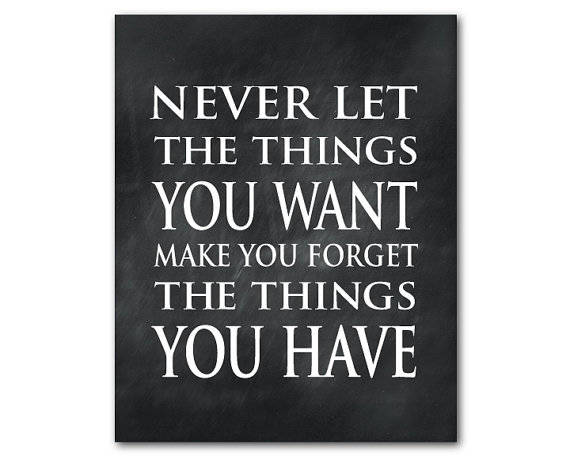 It's 11:13 pm… I'm just crawling into bed and thinking about the million things I didn't get to check off my to-do list today. Yesterday was "ground-hog" day but I swear today was too. Can any of you relate??
Our church is celebrating 100 years this year so we're celebrating in some fun ways, one of them being with what we call "First Wednesdays". We have a different key speaker share the first Wednesday of every month in 2016. This month (tonight), we got to hear from someone I'm (now) a huge fan of… Joshua Becker. He writes over at Becoming Minimalist (also wrote "Clutterfree with kids" – on my to-read list) and talks about the importance of pursuing our greatest passions, callings, and fulfillment in life by owning fewer possessions. Simple right?!
We can get so caught up in the 5,000 ads screaming at us from every direction every day, the Jones' family who always seem to be one step ahead, or the hole deep down inside of us that we keep stuffing with temporary fulfillment, that we lose sight of what's most important in life.
He went on to say that if we were to truly look at the amount of energy and effort we are constantly outputting into consuming more, only to keep up with maintaining that consumption, and then eventually moving onto the next latest and greatest thing, it's like a constant roller coaster you can never get off of. We don't have the time to invest into the important things in life because we are constantly filling the void that will actually never be filled. And are these "things" bringing us true contentment? Or are they slowly but surely moving us away from the most important things in life… our children, our spouse, friends, family, the Lord.
It really made me think.
Doing what I do (blogging, particularly fashion related), it hit home. Obviously he and I live two completely different lives, have different callings, etc.. Meaning, I didn't walk out of the room thinking I needed to change my life drastically. You take bits and pieces from speakers who passionately live out their lives to one sole purpose/topic in hopes that it will inspire others to attempt to walk down that path. But what I can say is that doing what I do, and surrounding myself with what I surround myself with on the daily, it can be so easy to get caught up in the consumption of things. We can become so consumed with consumption (grammatically correct?! not sure), that we are never truly satisfied. Once we've landed on that one thing that's given us "fulfillment", it's only a matter of time (usually hours or days) until we're onto the next joy finder.
I want to end my day not worried about the 1,039,029 things I didn't get to check off my list, but by being at peace with the steps I chose that day to invest into the things that really matter in life. And if consumption is going to take away from that peace, then I'm not at a healthy place.
Just a little something to chew on. I love deep convos and learning to grow. It's all about the journey!
How are possessions & consumption currently running your life??